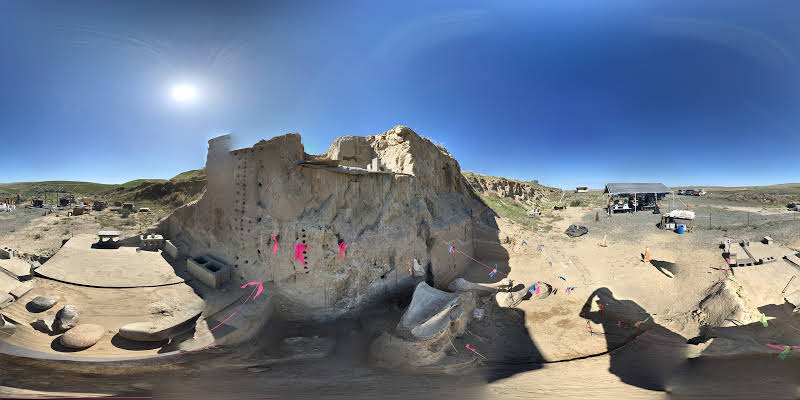 28 Aug

The Coyote Canyon Mammoth Dig
Periodically a rather motley crew assembles in Coyote Canyon near Kennewick, Washington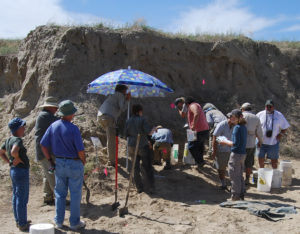 A few are computer engineers, two are social studies teachers and one is a paleoecologist. One is an Episcopalian priest, one is a geologist and one is a voice actor. One is an Architect, one is a biologist and a few more have microphotography and graphic art skills. Most are retired. None would appear conspicuous on the street. These people are the corps of citizen scientists which is studying the remains and burial of a 17,500-year-old resident of the Columbia Basin, a Columbian mammoth.
About 20 years ago
a property owner in the Horse Heaven Hills accidentally disturbed the resting place of this relative of modern elephants. Word of the find trickled out and eventually found its way to a paleoecologist at the University of Washington's Burke Museum. In 2008 a group of high school students, college students and instructors rediscovered the find, only to learn that the property was for sale by a bank. Within a week a local citizen bought the property and informed those who would become the core of this endeavor that they could work on this property to their hearts' content, as long as they shared their work with the local schools and community.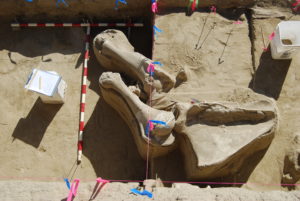 I don't know if the public understands the importance of the last sentence in the previous paragraph. That is an offer that can't be refused. Such opportunities are rare. In most similar cases these finds are ignored or not understood. Sometimes they are covered up, perhaps due to financial issues or incorrect information. This one is pure gold. Under the tutelage of the paleoecologist and geologist, this project has grown into a great opportunity for local citizens to wet their taste for science and natural history – hands-on – in the first person.
The Coyote Canyon Mammoth Dig is overseen by a 501(c)3 nonprofit organization known as the Mid-Columbia Basin Old Natural Education Sciences Research Center Foundation (MCBONES). All participants at the site are volunteers. Operation funding is primarily by public donation and the occasional small grant. School, public, and special group tours are available by appointment from mid-April into October.
For more information visit www.mcbones.org.