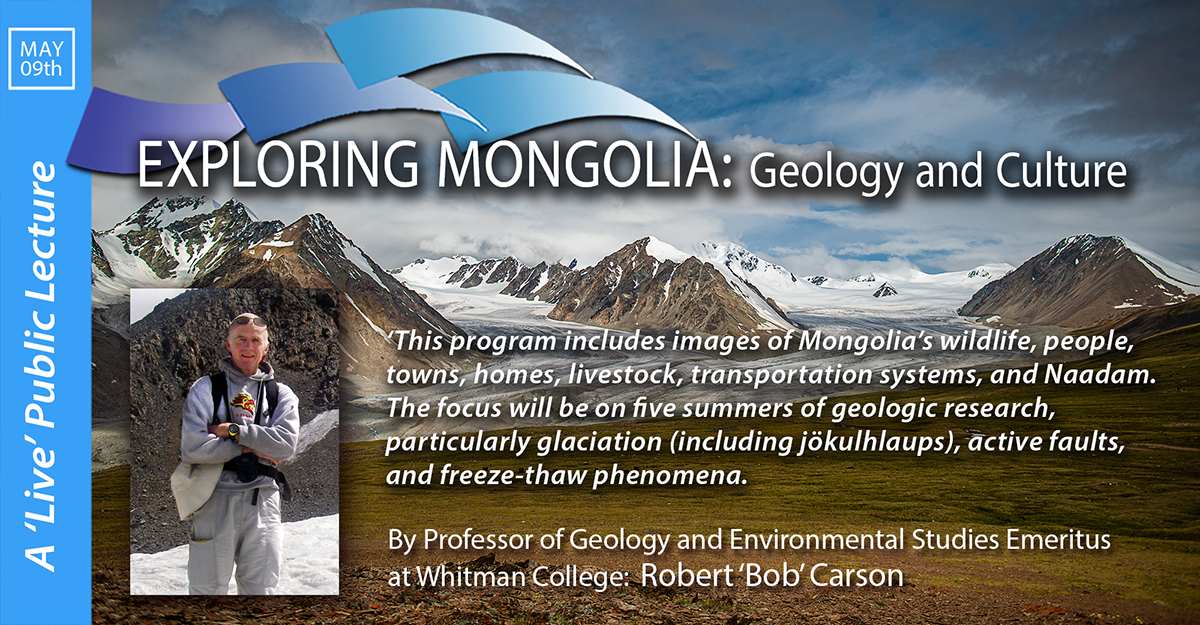 Please join the Lake Lewis Chapter of the Ice Age Floods 
FREE Public Lecture at the REACH Museum 
TUESDAY (May 9th) at 7pm
Presented by: 
Geology and Environmental Studies professor emeritus at Whitman College, Robert 'Bob' Carson.
Featured lecture: 
Exploring Mongolia (Geology and Culture)
Mongolia has the lowest population density on Earth and is the country farthest from an ocean.  The scenery varies from rugged mountains with glaciers to vast steppes and the Gobi (Desert).  The continental climate is broken by a summer rich in wildflowers and birds.  Professor Carson's program includes images of Mongolia's wildlife, people, towns, homes, livestock, transportation systems, and Naadam.  The focus will be on five summers of geologic research, particularly glaciation (including jökulhlaups), active faults, and freeze-thaw phenomena.
About the presenter:
Robert J Carson
Bob's upbringing in Rockbridge County, Virginia led to a life of geology, mountaineering, and whitewater. After his undergraduate degree at Cornell University, he spent four years in New Orleans working for Texaco and obtaining an MS from Tulane University. His PhD at the University of Washington led to teaching at North Carolina State University and Whitman College. Most of his research has been in the Pacific Northwest, Wyoming, and Mongolia. His books include Hiking Guide to Washington's Geology, Where the Great River Bends, East of Yellowstone, Many Waters, The Blues, and Adventure. Most of his books will be for sale: cash, check, or IOU.